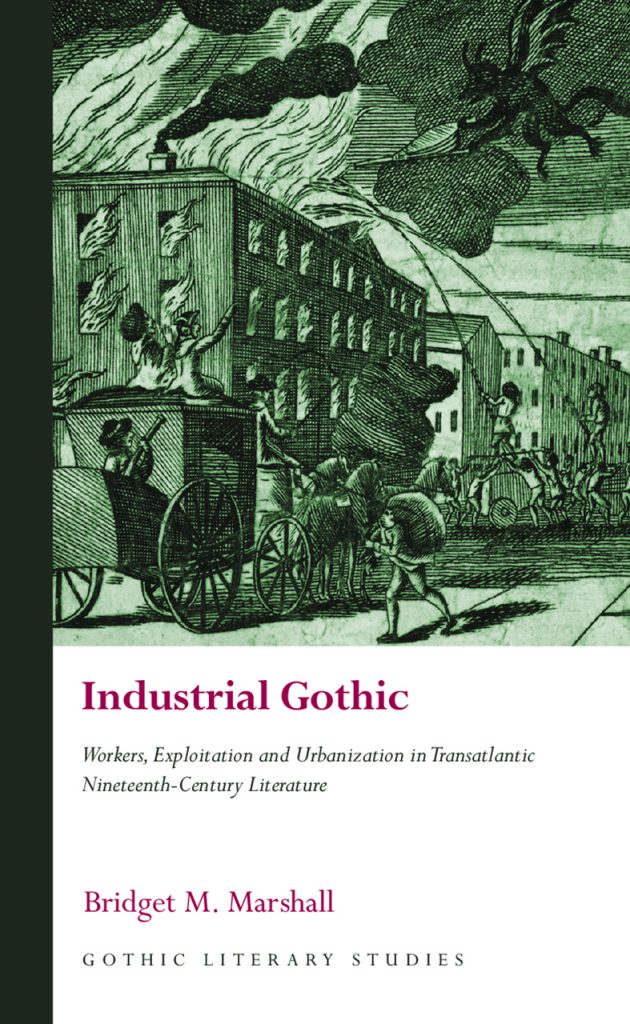 Bridget M. Marshall introduces her new book, Industrial Gothic: Workers, Exploitation and Urbanization in Transatlantic Nineteenth-Century Literature.
The path that led me to write about the Industrial Gothic was, perhaps, a bit overdetermined: the daughter of a casket salesman, I grew up one block away from a tyre factory, worked for a summer in a glass factory, went to college in a depressed steel mill town, and now live in Lowell, Massachusetts, a city famous for its role in the Industrial Revolution. While researching and teaching courses on the Gothic at the University of Massachusetts, Lowell, I encountered The Lowell Offering, a magazine written and edited entirely by female mill operatives between 1840 and 1845. I was fascinated by the concept of the magazine, and more than a little intrigued to find stories – like 'Garfilena, A Hungarian Tale' or 'The Haunted Glen' – that seemed to fit classic Gothic patterns. Reading the magazine set me off on a deep dive into a wide array of literary (and not-so-literary) texts by, and about, the women (and men) who worked in factories, mills and mines. These stories repeatedly used Gothic figures – vampires, ghosts, and other terrifying monsters – to explore the horrors of industrial labour, and frequently transformed classic Gothic plots with maidens in castles trapped by aristocratic villains into tales of mill girls in factories trapped by industrial overseers and owners.
In every newspaper archive I could access, I found stories about 'factory girls' and 'mill girls' who were abused in all manner of ways – victims of factory accidents, of work shortages, of terrible wages, of predatory overseers and doctors, and even of the press which often criticised their carelessness, their economic failures, and their choice of dress and hairstyle. I began to see in these news items – and later, in the short fiction and novels that were often based on these stories – that the factory girl was a new kind of Gothic heroine.
As the project developed, I expanded to a transatlantic scope, exploring British and American texts side-by-side, tracing the ways in which writers used the popular genre of the Gothic to depict the realities of industrial labour and especially its impacts on women, children, people with disabilities and the environment. These texts demonstrate how the Gothic was employed by workers and labour reformers to bring attention to the all-too-often ignored horrors of industrialisation.
Bridget M. Marshall is Associate Professor of English at the University of Massachusetts, Lowell, where she teaches courses on the Gothic, New England witchcraft trials, and disability in literature.